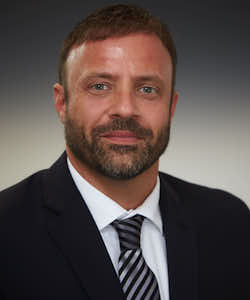 Jeff D. DeFrancisco, Esq.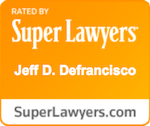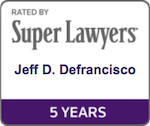 Jeff D. DeFrancisco, Esq. graduated from St. John Fisher College in Rochester with a Bachelor of Arts degree in business finance and economics. He thereafter obtained his Juris Doctor degree from Syracuse University law school. Mr. DeFrancisco's legal background includes working at the Onondaga County District Attorney's office and Harris Beach LLP. Mr. DeFrancisco's sole practice of law is dedicated to representing injured people.
Mr. DeFrancisco has extensive experience in handling all different types of personal injury matters including medical malpractice, construction accidents, motor vehicle accidents, falls, brain and spinal cord injuries, birth injuries and wrongful death; among others. Because his practice is solely devoted to representing the injured, he is extremely experienced and knowledgeable when it comes to medicine and medical standards of care. No matter your injury, all people will require medical care, so knowing the medicine and the human body provides us with an advantage over the competition especially when it comes to evaluating the true impact of your injuries and what would be considered fair compensation for same.
Because Mr. DeFrancisco handles only personal injury matters he is very familiar with how the human body functions and the effect a serious injury has on it. Because of his dedication to this field of law he has access to medical experts in virtually every area of medicine for consultations and trial purposes. For other liability cases, Mr. DeFrancisco has worked with accident reconstruction experts, OSHA experts, and engineers; among others. Mr. DeFrancisco also uses the services of economists, life care planners and vocational experts to determine and prove economic losses such as lost wages, past and future medical expenses, loss of household contribution and services, and loss of consortium claims. No matter your injury, Mr. DeFrancisco has the knowledge, experience, and resources necessary to assist in providing you fair and reasonable compensation for your injury.
Mr. DeFrancisco lives in Dewitt with his two children.
Jeff DeFrancisco, Esq. is a member of: 
Best Attorneys of America, New York Super Lawyers, Top 1% Trial Counsel, Multi-Million Dollar Advocates Forum, Onondaga County Bar Association, 
New York State Trial Lawyers, 
New York State Academy of Trial Lawyers, 
Million Dollar Advocates Forum, 
and he has a perfect rating on Avvo.com.
Mr. DeFrancisco was published in both the 2009 and 2010 "Top New York Verdicts" publications.
Education
J.D., Syracuse University College of Law, Syracuse, New York
B.S., St. John Fisher College in Rochester, Rochester, New York

Major: Business Finance
Major: Economics
Bar Admissions New York, 2000
U.S. District Court Northern District of New York, 2000

Professional Associations and Memberships
Onondaga County Bar Association
New York State Trial Lawyers
New York State Academy of Trial Lawyers
Multi-Million Dollar Advocates Forum
Million Dollar Advocates Forum
Avvo.com Perfect 10.0 rating
Top 1% Trial Counsel
SuperLawyers
Litigation Percentage
100% of Practice Devoted to Litigation
Published Works
Top New York Verdicts, 2009
Top New York Verdicts, 2010
Representative Cases
Holstein v. Community General Hospital Holstein - $1.6M verdict - Appealed to highest Court with victory. (Supreme 2011)
Lyon et al. v. Gingold et al. - $10,000,000 verdict at trial
Honors and Awards
SuperLawyers
Multi-Million Dollar Advocates Member